Our Mission ...
Bulverde Area Humane Society is a non-profit organization that provides a caring and secure environment for homeless and surrendered dogs and cats. Our purpose as a no-kill shelter is to assist in the pet life cycle through education, spay/neuter assistance, and promoting pet-forever families. Bulverde Area Humane Society is powered by volunteers and tax-deductible contributions.
What we do ...
Assist and match up lost and found; animals with their owners. For those animals caught in-between homes, we shelter, feed, water, clean-up, exercise and find the best homes we can. Because we are a no-kill shelter, we include a large measure of love for all the animals entrusted to us by various circumstances.
More...

The Big Give S.A. 05-05-15
On May 5, 2015, San Antonio and surrounding counties will come together for 24 hours of non-profit giving during The Big Give S.A. and it's your chance to make an impact, as family and community. We see it as our opportunity to help more animals. Whether it happens while they are attempting to scavenge an existence on their own because they were abandoned or surrendered through no fault of theirs, we are seeing a heartbreaking increase of animals that need rehabilitation before we can find them new families. All you have to do is commit to donating to Bulverde Area Humane Society on May 5 through The Big Give S.A. website and you'll help us help the animals.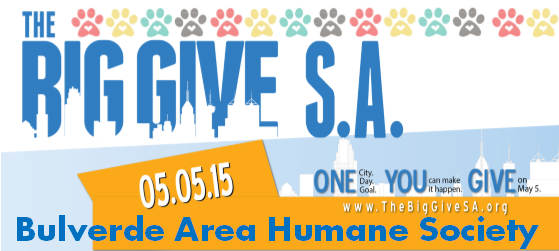 https://thebiggivesa.org/#npo/bulverde-area-humane-society
Important Notice for volunteers
Check the Volunteer page for Important changes effective MAY 1st for NEW volunteers.
Business Hours
Tuesday, Thursday and Saturday
10:00AM to 1:00PM

---
Sunday ADOPTIONS Only
1:00PM to 4:00PM
Training Tips