Our Mission ...
Bulverde Area Humane Society is a non-profit organization that provides a caring and secure environment for homeless and surrendered dogs and cats. Our purpose as a no-kill shelter is to assist in the pet life cycle through education, spay/neuter assistance, and promoting pet-forever families. Bulverde Area Humane Society is powered by volunteers and tax-deductible contributions.
What we do ...
Assist and match up lost and found; animals with their owners. For those animals caught in-between homes, we shelter, feed, water, clean-up, exercise and find the best homes we can. Because we are a no-kill shelter, we include a large measure of love for all the animals entrusted to us by various circumstances.
More...

Big Give S.A.
The Big Give S.A. is a 24-hour day of giving that will take place from midnight to midnight on May 3, 2016. The purpose of this community-wide giving challenge is to increase public awareness of the impact local nonprofits make in addressing our community's social challenges, bring nonprofits and donors together, expand the idea of online giving, connect people to the causes that move them the most.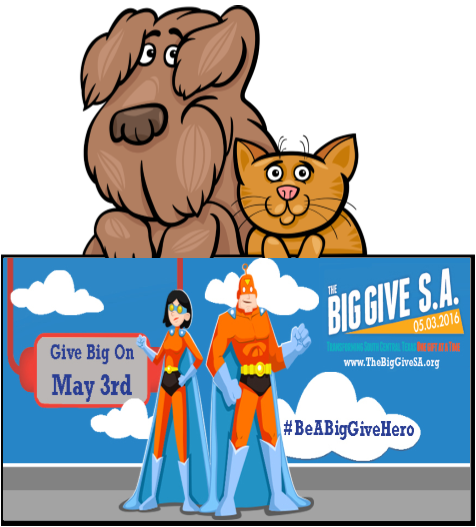 For 33 years at
Bulverde Area Humane Society,
we place pets in forever homes where they will be part of the family. We spay or neuter every dog or cat in our shelter. We treat them for parasites, injuries or illnesses. We vaccinate. We microchip. Where possible, we address behavioral problems. We educate adopters about how to be responsible pet owners so that they are more than just pets, they are family. In addition to caring for animal's needs, much of the construction, repairs and grounds maintenance is also a job for our volunteers, as well as performing all the tasks of running a shelter.
---
Business Hours

Tuesday, Thursday and Saturday
10:00AM to 1:00PM
Sunday ADOPTIONS Only
1:00PM to 4:00PM

Training Tips